Collective Worship
On 4th October our Head boy and Head girl represented the school while attending a Trust Mass in Newark.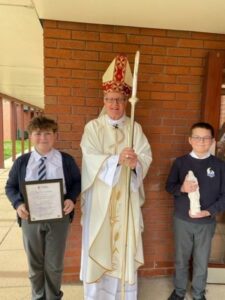 Crowning of Mary May 2022
Father Jonathan joined us for a beautiful celebration of our Mother Mary, patron saint of our school and parish. Unfortunately, the weather was not on our side, and we had to transfer our celebrations indoors at the final moment, this didn't dampen our spirits and the children sang their hearts out.
The Chaplaincy Team planned and led the liturgy, 'Mary, an ordinary woman with a special calling'.  Mary was extremely humble that she had been chosen to be the Mother of God's only son. She always lived in the way God wanted and was perfect. That is why we say that she is 'Full of Grace and 'Blessed among Women'.
Year 4 crowned Mary and Y6 performed a liturgical dance.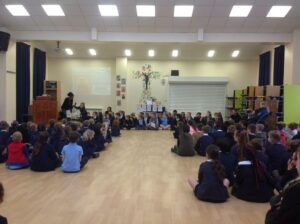 Congregation from our Ash Wednesday Mass held at St Mary's Academy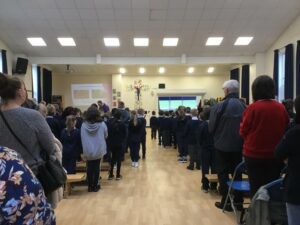 Mr Buckeridge Assembly November 2021